Graphics Tablets – A Complete Guide
Graphics tablets are an essential piece of equipment when it comes to generating art of any kind on computers. Whether you are sculpting characters for games, drawing concept art, or designing t-shirts, a graphics tablet is not just useful but is a requirement when generating decent art. The reason is that they allow the user to draw and interface with the computer in the natural way that we learn to draw and paint when young. There are also other reasons, such as having pressure sensitivity, which allows you to make nice smooth lines that look as you would expect if painting with a brush.
Graphics tablets are technical pieces of equipment and some of the terminologies can get quite confusing. They also range from reasonably priced to incredibly expensive so you want to make sure you are making the right choice when looking for which one is right for you.
Why Get A Graphics Tablet? What Are They Used For?
Graphics tablets are useful for a number of reasons. The biggest is that if you are looking to paint something such as concept art that needs precise brushwork or hand-drawn calligraphy then they are essential. Mice do not give the precision that using a pen does, and to make smaller movements you would have to turn the mouse sensitivity down very low, making it hard to do other things. Using a graphics tablet with a pen you can have a very accurate and precise way of controlling the digital brush, especially if you get a tablet with a similar size drawing area to your screen size.
There are some other features that all graphics tablets have mice do not. A big one is pressure sensitivity which allows you to change the size of the brush in a way that pressing down harder with a paintbrush or pencil would cause it to make a bigger mark. This can also be used to have other effects, such as changing the opacity or flow of the brush depending on the pressure you apply.
There are also other features that are unique to some models, such as having a screen you can directly draw onto which gives you a much closer connection to your work and allows for even more finesse. Whilst these are premium features that you will have to pay more for, they are generally worth it if you want to do a lot of art.
Most Important Tablet Stats To Compare
There are a few important things you want to look for when buying a graphics tablet. Here are the top things to check:
Pen Tablet, Pen Display or Pen Computer
Drawing Area Size
Screen Size
Screen Resolution (For Pen Displays)
Pen Pressure Levels
Tilt Function
Buttons And Other Functions
Pen Tablet vs Pen Display vs Pen Computer
The majority of graphics tablets that are out there are considered Pen Tablets. They provide a 'canvas' with which to draw on to which sites on your desk like a piece of paper and a pen which interacts with it to control the mouse pointer on the computer. There will usually be a few buttons on the canvas part of the tablet that be programmed to perform certain keystrokes, such as ctrl-z to undo so that you don't have to move your hand from tablet to keyboard too often.
A Pen Display (sometimes known as a Drawing Tablet) is a tablet that works functionally the same as the Pen Tablet, but the canvas doubles as a monitor, allowing you to draw straight onto your Photoshop layer or sculpt directly onto your 3D model. Generally, artists will always prefer a Pen Display as it's so much more intuitive to use, however they are a lot more expensive as you are also buying a high definition monitor along with a tablet.
A Pen Computer works the same as a pen display, but it has the entire computer built into it so that you can use it on the go. They're the newest type of tablet and remain very expensive, but if you want complete mobility without being tied to a computer then there really is no alternative. While there are drawing and sculpting apps for mobile devices such as iPads which you can use on the go, they're not at all a replacement for a proper tablet. The one downside to pen computers over pen displays is that they tend to be considerably smaller than their expensive counterparts. This is to allow for the mobility and stop the weight from being too heavy.
One of the most important things to look for is how big the area is that you can actually draw on. The bigger the screen the more precise you can be with pen movements. The reason for this is the tablet represents the entire screen size so a small movement on a small tablet can make a huge movement on a big screen. It is possible to program it to only use a portion of the screen, but it will quickly become cumbersome to use, so a larger drawing size is recommended. The only real benefit to a smaller screen is that smaller tablets are easier to transport due to their size, so if you travel often or want to draw in coffee shops, for example, a smaller one might work best.
One important thing to note is that the size of the tablet does not directly correspond to the drawing area size, so it's important to specifically check that. Some tablets look like most of the surface is part of the drawable area but it's often smaller than it looks. There are usually little corner markers that show where the edge of the drawable area is.
Screen Size And Resolution
This one only applies to Pen Displays, which have a screen inside the tablet, but the screen size and resolution are important. Seeing as you are drawing directly onto the screen, the screen size matters for the same reason the drawing area size matters. You will get more precision out of a bigger screen but it will be harder to transport if you move about often.
Screen resolution is also very important as you will be looking at your artwork primarily on this screen so the better the resolution the better you will be able to see what you are doing and how good your artwork looks. It can also allow you to fit more on the screen, such as tools or brushes, and still have plenty of screen real estate for the artwork you are working on.
Some added bonuses to think about are things such as HDR or QLED screens which will boost the color and quality of the screen if you can afford them. Having an HDR screen will even allow you to view a wider spectrum of colors, increasing your ability to really push your artwork.
Pen pressure levels refer to how sensitive the tablet is to how hard you are pressing. One of the biggest benefits of tablets over other ways of controlling the mouse pointer is the ability to measure how hard you are pressing to mimic the way the pressure you use on a pencil or paintbrush would work. All tablets do this, but some are able to measure smaller changes and this is referred to as pen pressure levels. This ranges from 2048 levels of pressure at the low end to 8192 levels of pressure at the current high-end devices on the market.
Whilst you will generally have higher specifications across the board with more expensive tech, it's not always the way, with some cheaper tablets like the Huion HS64 still matching the high-end tablets with 8192 pressure levels.
Pen pressure will not be too noticeable for casual users or first-time users. But if you intend to do some detailed work or intend to use it often, it's definitely worth making sure you get decent pressure sensitivity levels on your graphics tablet to allow you to finesse your finer work.
Similar to the pen pressure, the tilt function is another feature unique to tablets and although perhaps not quite as essential, they are still incredibly useful, especially for recreating that painted look on computers. It is also designed to mimic the effect you would get from using a paintbrush, so the better the ability of the tablet's tilt function, the more natural it should feel compared to traditional painting.
Not every tablet will have tilt functionality, it is usually reserved for the more expensive ones, so it is worth keeping an eye out for it if it's a feature that interests you. Tablets will also vary by how accurate it is and what angle it can be held at and still used. Past a certain point it will be unable to detect a press, so it's worth noting if you like to hold your pen at an acute angle.
Buttons And Other Functions
Most tablets will come with some buttons as standard, they might be linked up to switching windows, undoing the last action, or any number of other functions that would be easier to handle with buttons than having to reach for the mouse. These can almost always be reprogrammed to any functions or keystroke that you want.
Some other things that are common are touch wheels, which function similarly to a mouse wheel except you lightly touch it and spin around it to do so. This is usually set up directly to affect your brush size as standard but can be an easy way of making a number of adjustments to your brush very easily.
Whether you need any of these functions or any others will depend on how you intend to use them and so you will be the best judge about what you may or may not need. If you are unsure though it is a good idea to have a few buttons and some method of scrolling such as a wheel or a bar so that you have all of the most common functions covered.
Graphics Tablet Accessories
There are a few accessories that are not essential when using a tablet, but might be worth considering if you want to best possible experience. The first of these is a Drawing Glove. This is a glove that is silky in texture and sits over your ring finger and little finger but keeps your index and middle finger bare. This allows your hand to flow over the surface of the tablet more easily without restricting how you hold on to the pen. Whether you use one or not will be down to personal preference. When you buy a tablet they will often come with a basic glove, so check before you buy.
Another accessory that could be worth considering is pen nibs. You can get a variety of pen nibs from the standard plastic one to felt ones. Most will be specific to the pen that the tablet uses and many tablets will come with some as standard. They don't really offer any functional advantage but some will feel better to some people, and some are better for protecting the surface of the tablet, which can get damaged over time, especially if you are heavy-handed like I am.
Other accessories to consider are travel cases if you move around often or a stand if you prefer to work on a paint canvas that's upright, like an easel. The aim of any accessories should be to facilitate how you work, making it as comfortable as possible and making it feel as natural as possible, so you aren't fighting against the tech and you can just get your creative talent onto the screen.
Best Graphics Tablets Available Right Now
The best tablet for you will depend on a few things. The price, the sensitivity, the size, and the weight might all be important factors for you, or may not matter at all. As such we're going to list a few tablets that all excel in their particular areas. For a more in-depth breakdown of some of the tablets listed here, as well as a look at some of the best game development equipment then check out this article.
Best Reasonably Priced Pen Tablet
Huion Inspiroy HS610
Brand – Huion
Price – $79.99
Link
Huion HS64
Brand – Huion
Price – $39.99
Link
Best Pen Display Tablet No Matter The Cost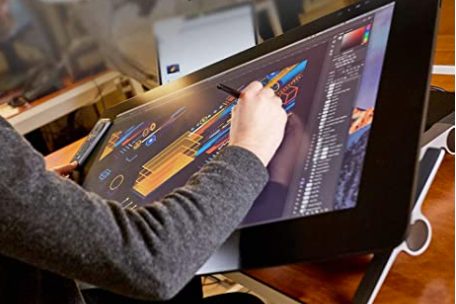 Wacom Cintiq Pro 32
Brand – Wacom
Price – $3299.95
Link
Best Reasonably Priced Pen Display Tablet
Huion Kamvas Pro 24 (4k)
Brand – Huion
Price – $1299.00
Link
Best Pen Computer No Matter The Cost
Wacom MobileStudio Pro 16
Brand – Wacom
Price – $3199.99
Link
Best Reasonably Prices Pen Computer
Huion Kamvas Studio 22
Brand – Huion
Price – $1195.00
Link