Best Game Development Equipment
Game development is big and complex, so a number of tools are needed to effectively do it. Whilst there is a huge number of programs out there that game develops need, and lots of hardware upgrades for the PC that might restrict what you can do, we're specifically looking at the game development equipment you can buy to help improve or speed up the work process to make your life easier.
Graphics tablets are a must for most Artists, but they are a surprisingly versatile piece of game development equipment and can be an improved way of interacting with the computer in a large number of cases. Using a pen and tablet, they allow you to draw and paint directly onto the computer in the same way that you would on paper. The most obvious advantage is how much easier it is to draw accurate lines than with a mouse, but there are other improvements you can only get through a graphics tablet, such as pen pressure sensitivity and pen angle readings, which change how the end result turns out.
Below we go into a few details about our favorite tablets, but check this out for a complete breakdown of everything you need to know about graphics tablets and a longer list of recommended buys.
Best Overall – Wacom Intuos Pro
Brand – Wacom
Buy It Now
Wacom has long been the market leader for graphics tablets and although more challengers are entering the arena, they are still the go-to when it comes to quality graphics tablets. The downside is some of the huge prices that come with them, however, the Intuos straddles the line between a fairly affordable tablet that still gives you the size and quality you will need to do anything you desire.
This is a fairly standard graphics tablet for professionals to use personally. While it can be found in studios all over, games companies will often splash out for the more expensive options as money is less of an issue. However, individual professionals will often use something like an Intuos at home and will serve them perfectly well.
Best Quality For Price – Huion Inspiroy HS610
Brand – Huion
Buy It Now
Huion is the main competitor to Wacom in the graphics tablet world. Whilst the quality of Wacom products are generally considered slightly higher, they come with a very steep cost. Huion, whilst being more of a budget option, are still very good quality and can be seen being used by professionals in companies around the world, so you don't need to concern yourself with quality.
Whilst they come in a range of types and sizes, the most standard is the Inspiroy HS610 which is around the size of a piece of paper, as you would expect to usually be drawing on. The size is also similar to the screen, which allows for more accurate movements, without the huge size. You can also get Huion graphics tablets with a screen, although they cost considerably more.
Best No Matter The Cost – Wacom Cintiq Pro 32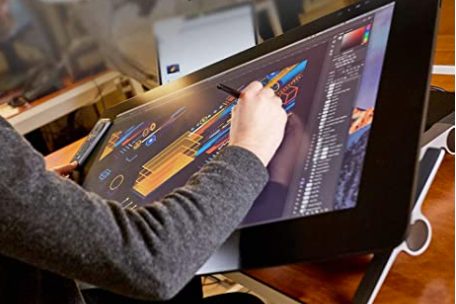 Brand – Wacom
Buy It Now
Wacom's Cintiq is the cream of the crop when it comes to graphics tablets and it has a price to match. If you have seen artists using graphics tablets in behind the scene shots of game studios it's almost certainly a Cintiq. Cintiq's main difference compared to the cheaper Intuos is that it's a high definition monitor all on its own that allows you to draw directly on the screen, giving you the absolute best replacement for drawing or painting directly onto a canvas and as such the most natural way of working.
A Space Mouse or 3D Mouse is a piece of game development equipment designed specifically for navigating a camera in 3D space. Rather than using multiple hotkeys and mouse clicks along with dragging the mouse around, a Space Mouse uses a joystick-like device that allows you to move on multiple axis at once with ease, even allowing you to get views in many 3D programs that you wouldn't otherwise manage to get, or that would take a long time to navigate to. Whilst they are not necessarily industry standard, you will see some people who have taken the plunge and learned how to navigate with it with incredible ease.
Best Overall – 3Dconnexion Space Mouse Pro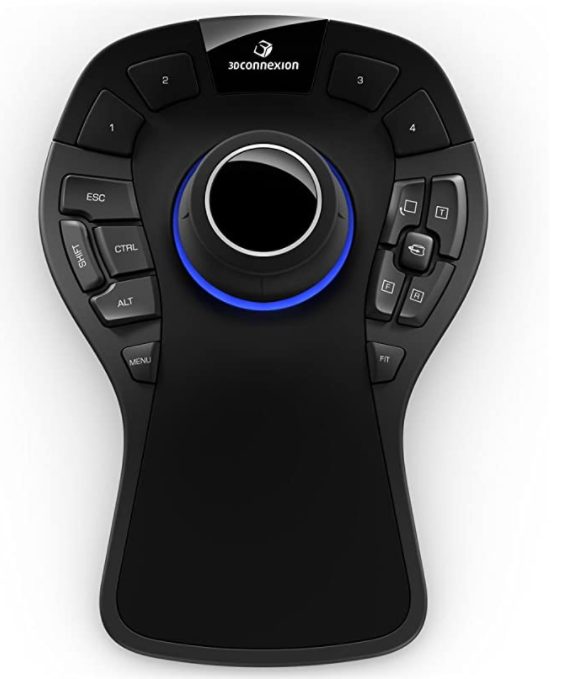 Brand – 3Dconnexion
Buy It Now
When it comes to 3D mice, there's currently only one big name in it, 3Dconnexion. As these game development tools have not yet hit full popularity, there aren't many companies currently making them, although that's likely to change in the future. For now, though, choices are limited and it entirely depends on what you want from the device. the Space Mouse Pro is a great middle-ground, providing you with the 3D mouse you are looking for, as well as plenty of buttons to use with it to make up for moving your hand away from the keyboard, meaning less juggling of devices.
Best Quality For Price – 3Dconnexion Space Mouse
Brand – 3Dconnexion
Buy It Now
Whilst lacking some of the functionality of the others, the Space Mouse gives you that 3D camera mobility that you are after but at a much more manageable price, especially if you are unsure about whether it is right for you before dropping more money on an expensive version. Its size also means it takes up less desk space and can be used alongside a keyboard or transported from place to place more easily.
Best No Matter The Cost – 3Dconnexion Space Mouse Enterprise
Brand – 3Dconnexion
Buy It Now
3Dconnexion's Space Mouse Enterprise is a top-of-the-range 3D mouse, sporting a huge array of buttons and even touch screen programable functions that change depending on which program you are using, allowing you to quickly select your most used tools in a quick and easy way. Whilst the price is enough to put many people off considering the cheaper alternatives, if you want a piece of game development equipment that provides the full luxury experience then you can't do better than this.
Hotkey Keyboard / Stream Deck
A hotkey keyboard may be familiar to some gamers such as MMO veterans who wanted an edge over their peers but they are also useful for game development. They work by adding a series of buttons that can be pre-programmed to perform whatever function you like. With the huge amount of tools across a large number of programs, it can be useful to have your most-used tools at the push of a button. You can even combine them with a program's own functions such as Photoshop's Actions or running a script in a 3D program so you can set up a series of actions that run in sequence, that can all be activated by the tap of a button, saving a huge amount of time and effort.
Best Overall – Elgato Stream Deck
Brand – Elgato
Buy It Now
Whilst the lower number of buttons may put people off, the quality and customization the Elgato Stream Deck allows make it a great buy for the price. With 15 customizable buttons, it also allows you to add custom images to each button so you will always know what they are. Whilst it may take a bit of time to get set up, you can see exactly what each function does using the icons from the program itself. It can also be programmed to perform a series of functions allowing you to do multiple tasks with a single press. Although this is designed primarily for streamers rather than as game development equipment to have functions available without closing down the programs they are using, it's equally as useful for us game developers.
Best Quality For Price – Razer Tartarus V2
Brand – Razor
Buy It Now
Although a quality piece of kit, the Razer Tartarus V2 lacks some of the functionality of the Stream Deck but makes up for it in quantity and other features. Designed for gaming, it has 19 programmable buttons at your fingertips as well as joystick and scroll wheel. The main benefits this has over the others, besides the price, is the style and ergonomic comfort that Razor is known for to facilitate prolonged periods of use.
Best No Matter The Cost – Loupedeck Creative Tool
Brand – Loupedeck
Buy It Now
As with the others, the Loupedesk Creative Tool is not designed as a piece of game development equipment, in this case, it is primarily for music editing, but it's still a great option. Because of its music focus, it has a lot of twistable knobs which might not seem useful at first, but they are also programable so you can attach them to something like brush size to have an intuitive way of adjusting them. It's also specially designed for use with Photoshop and Illustrator among other programs.